ISO 9001:2000 Quality Management Systems
ISO 9001:2000 represents the accepted minimum requirements for a well managed organization. However, the generic standard does not prescribe how to comply with its requirements. Orion Canada specializes in designing management systems that not only comply with industry best practices, but that deliver significant bottom-line contributions in terms of improved effectiveness, better efficiency and high rates of customer satisfaction.
Minimize your effort in complying to ISO 9000: 2000. Orion Canada Inc. will get your quality system compliant to the international standard for good management quickly and painlessly ... after all, you are not in business to learn new standards! Also ask us about our workshops on the changes to the new standard.
Orion Canada client AMITA Corporation was the first in North America to be registered by an accredited registrar to ISO 9001:2000 (registered on December 15, 2000, see press release)!
The Highlights
ISO 9001:2000, the most anticipated standard in history, was published on December 15, 2000. ISO 9000 certified organizations have a maximum of three years to upgrade to the new standard or forego their certification.
The new standard replaces the former ISO 9001, 9002 and 9003 documents with a single standard: ISO 9001: 2000. Those organizations which have used ISO 9002:1994 and ISO 9003:1994 in the past may use the new standard through limiting the scope of their registration.
ISO 9001:2000 places new emphasis on measurement and meeting customer requirements. The term "Quality Assurance" rather than process consistency.
The structure of the standard is also considerably revised. The 20 familiar ISO 9000 elements have been replaced with 5 broad categories of quality management:
1) Quality Management System
2) Management Responsibility,
3) Resource Management,
4) Process Management
5) Measurement, Analysis and
Improvement.
The number of required procedures has been considerably reduced. Only six procedures are mandatory. Orion Canada specializes in lean and efficient quality systems.
The Quality Management Process Model upon which the ISO 9001:2000 is based is provided below.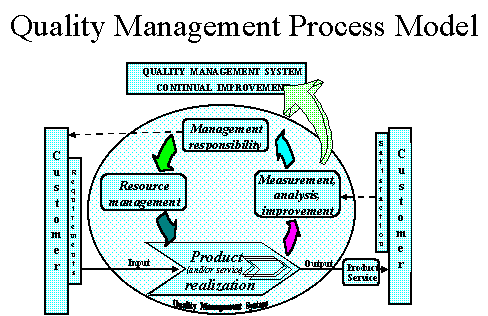 Transition Planning Guidance for ISO 9001:2000 is available from the ISO 9000 Technical Committee ISO/TC 176/SC 2. Contact Orion Canada to learn more about their simplified process for upgrading to the new standard.
The Table of Contents from ISO 9001:2000 is listed below:
ISO 9001:2000 Table of Contents
Electronic copies of the ISO 9001:2000 standard may be ordered through the American Society for Quality. Below is the Table of Contents of the ISO 9001:2000 standard:
Contents
1 Scope
1.1 General
1.2 Application
2 Normative reference
3 Terms and definitions
4 Quality management system
4.1 General requirements
4.2 Documentation requirements
5 Management responsibility
5.1 Management commitment
5.2 Customer focus
5.3 Quality policy
5.4 Planning
5.5 Responsibility, authority and communication
5.6 Management review
6 Resource management
6.1 Provision of resources
6.2 Human resources
6.3 Infrastructure
6.4 Work environment
7 Product realization
7.1 Planning of product realization
7.2 Customer-related processes
7.3 Design and development
7.4 Purchasing
7.5 Production and service provision
7.6 Control of monitoring and measuring devices
8 Measurement, analysis and improvement
8.1 General
8.2 Monitoring and measurement
8.3 Control of nonconforming product
8.4 Analysis of data
8.5 Improvement
Annexes
A Correspondence between ISO 9001:2000 and ISO 14001:1996
B Correspondence between ISO 9001:2000 and ISO 9001:1994
Bibliography